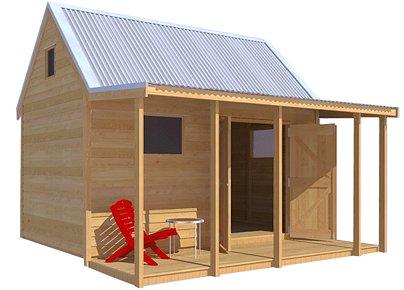 Craftsman GABLE LOFT Sheds offer additional storage space ith their half mezzanine lofts..
Solid 75x50 framing on 600 centres and 20mm thick cladding make these sheds sturdy and durable.
Floor kits, windows, skylights, verandas and decks are optional additions.

Request a Design

Model: GWV4124 - as shown (deck not included)
Shed Size:
4.1m x 2.4m - 9.84m²
Frame:
H3.2 pine
Roof:
Zincalume
Cladding:
150x20 H3.2 B/s boards
Doors:
Timber Double 1.8H x 1.5W
Windows:
Fixed Glass 0.4H x 0.4W
Fixed Glass 0.8H x 0.6W
Fixed Glass 0.6H x 0.8W
Loft:
150x25 H3.2 B/s boards
Veranda:
4.1m x 1.2m
Floor:
150x25 H3.2 B/s boards
PRICES
Plans
KS
BK
Lockup Shell:
$600
$POA
$POA
Floor Kit:
incl
$POA
$POA
Plans:
Full SmartPLANZ package including all manufacturing, assembly and ordering schedules
See full details about Plans Package
SK: DIY Smart Kitset
This price is an estimated cost of materials sourced by owner or their builder from local merchants.

BK: Builders Kitset

This is the estimated cost for a local builder to provide prenailed frames and supply of all materials.


NOTE:
Prices include GST, and will vary due to location or site.
Standard Sizes
GWL3624:
3.6m x 2.4m - 8.64m²
GWL3230:
3.2m x 3.0m - 9.60m²
GWL4124:
4.1m x 2.4m - 9.84m²
Design Options
Foundations:
Pile and Bearer
Concrete Pad
Floor:
150x25 H3.2 B/s boards
H3 17mm Plywood
Roof:
Zincalume steel
Colorsteel
Cladding:
150x25 H3.2 B/s boards
Doors:
Double Timber 1.8H x 1.5W
Single Timber 1.8H x 0.8W
Windows:
Fixed 5mm Glass
Louvre opening
Aluminium awning
Loft:
150x25 H3.2 boards
H3 17mm ply
OPTIONS
Polycarbonate Skylights
Build Paper to roof and walls
Veranda:
H3.2 frame, roof matching shed
Deck:
H3.2 1.2m deep