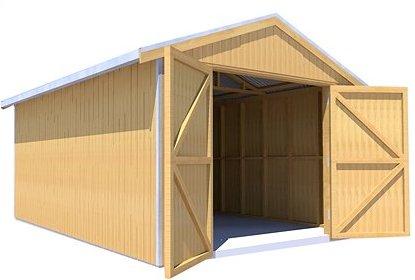 GABLE Sheds and Workshops are available in a range of widths with sizes to 80m².
Timber framed, these buildings are available in a wide range of claddings.
Hinged and roller doors, aluminium windows and service doors, timber floor kits, and skylights can be selected to suit requirements.
Being over 10m² these will generally require Building Consent.

Request a Design

Model: GS3654 - as shown
Shed Size:
3.6m x 5.4m - 19.44m²
Frame:
H3.2 pine
Roof:
Zincalume
Cladding:
Shadowclad plywood
Doors:
Timber Double 2.2H x 2.4W
Windows:
optional
PRICES
BC Plans
SP Plans
SK
BK
Lockup Shell:
$1,400
$900
$
$
BC Plans:
Drawings and Specifications for Building Consent Application.
SP Plans:

SmartPLANZ package including design, manufacturing drawings and builder assembly notes plus full material ordering schedules.
DIY Owner-Build full assembly instructions are also available at additional cost.

See full details about Plans Package
SK: DIY Smart Kitset
This price is an estimated cost of materials sourced by owner or builder from local merchants.
BK: Builders Kitset

This is the estimated cost for a local builder to provide prenailed frames and supply of all materials.

See full details about Kitsets
NOTE:
Prices include GST, and will vary due to location or site.
Standard Widths
GS30:
3.0m wide
GS36:
3.6m wide
GS42:
4.2m wide
GS48:
4.8m wide
GS54:
5.4m wide
GS60:
6.0m wide
GS66:
6.6m wide
GS72:
7.2m wide
Design Options
Frame:
H1.2 SG8 Pine
Roof:
Zincalume steel
Colorsteel
Cladding:
Vertical Corrugate Zincalume
Vertical Corrugate Colorsteel
Horizontal Corrugate Zincalume
Horizontal Corrugate Colorsteel
Shadowclad Ply
Ply and Batten
Hardiflex sheet and Batten
Hardies 180 w/board
Hardies Linea w/board
Doors:
Garage Roller
Hinged Timber
Hinged Iron
Windows:
Fixed 5mm Glass
Louvre opening
Aluminium awning
OPTIONS:
Polycarbonate Skylights
Build Paper to roof and walls
Floor:
Timber joist and bearer
H3 ply flooring